As most of you know, I am a dietetics at CMU and I absolutely love it. What most of you might not know is that I just finished my first year there, but I only have 2 more years of school left. Today I'm going to take a little break from nutrition and am going to talk about my experience as a transfer student, dual enrolled student, and things I wish I did/ didn't do. After all, without all of these things, I would not be the student I am today! Hopefully it'll help all of you future/current students out in the process. (:
My Experience:
Honestly, when I was a senior in high school, I was pretty checked out of it and was ready for bigger and better things. I was already working a lot (Mickey D's...living the dream) and that was one of my only focuses. I talked to my counselor about what some of my options might be and she told me that I could do something called dual enrollment. For those of you who do not know, dual enrollment is when you replace some of your high school credits for college credit. At this point, I wanted to be a special education teacher so I signed up to take classes about that (you can't take your main core classes at this time because you can't take a course already provided through the high school). My schedule my senior year was pretty laid back. I only went to high school from about 9am-noon and then I had an online class and a night class once a week. Not only did this help me to learn how to manage my time more for when I was completely out of school, it helped me to get a head start on learning how to study for college classes, and just learning the campus in general.
Bonus: When you do actually start your freshman year, one of the biggest bonuses is that when your friends are lost on campus, you won't be!
At the end of my senior year, I already had 15 credits under my belt. I also changed my major again to elementary education!! One of the great things about dual enrollment is that your high school pays for the credits. So, I wasn't too upset when the classes I took didn't really count towards anything.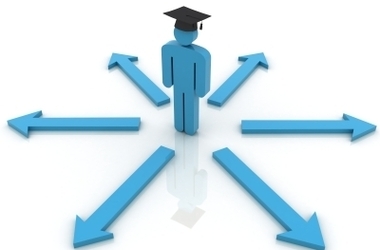 Once I started my real freshman year, I took mostly general education classes (math, English, etc.) and I continued to volunteer in classrooms and such trying to figure out if this is really what I wanted to do. Well, you probably guessed it, it wasn't. I changed my mind from being an education teacher to a dietitian.
Now that I knew what I wanted to do...I had to pick what college I wanted to go to. I looked at schools in Tennessee, Grand Valley, Michigan State, and Central Michigan. I won't go into details about why I didn't choose the other schools. But I will say that I chose Central because it wasn't too far away from home, the campus is beautiful, and it offered all of the academic help I could ask for.
Things I wish I did/didn't do:
1. In a perfect world, I wish that I knew I wanted to be a dietetics major from the beginning. This would help a lot with what classes I took and knowing where to volunteer and such, but literally everyone changes their mind at some point or another so don't stress if this is you!
Well, I guess I am average
2. When I did decide to transfer to Central, I wish that I was given an exact copy of the classes I needed for my degree (which I probably could've gotten with some digging online) because I could've completed a lot more classes at LCC before transferring. If you are thinking of transferring to a university, please do this! You won't be sorry!
3. There is a program called Early College at Lansing Community College and you can get your associates degree by the time you graduate high school. I really really really wish that I did that because it is completely free!
4. Keep up on your paperwork and save everything. For some reason, I always had trouble getting my transcripts over to the university. I probably sent them about 6 times before it finally worked (talk about a pain in the butt!). Just stay calm and let the people in charge know what you need.
Tips:
1. Most people recommend going to community college for 2 years and a university for 2 years. But honestly I am glad that I get 3 years at CMU because if I had 2 years, I feel like I would have a year to get to know everyone, and a year to say goodbye. I love having another year in between.
2. Make friends with your counselors and academic advisors. They can help you to find out what you need to do.
3. MACRAO is the greatest thing ever....do it. MACRAO is an agreement between community colleges and universities and you can pick what classes you take and instead of a getting a huge checklist of classes when you transfer, you get a stamp and you don't have to worry about anything after this point. (:
4. GET AN AUDIT DONE EARLY. I went and got an audit done about 3 months after starting Central and if I didn't do that, I would be freaking out when it came to be around graduation time. At an audit, they will tell you what classes you have/need to take to graduate on time.
5. Bottom line, I recommend going to a community college. I would not be anywhere near the student I am today if I didn't do that first. It prepares you better than high school does and its like a stepping stone so that you are not just thrown into the mix. (:
Fire up Chips!! Feel free to ask me any questions through my Facebook or Twitter Page (links found to the right).
Thanks for Reading!